Hey guys, Dabuyu is another new translator of Spirit Realm and he's also a September baby!! His birthday is on the 22nd of September, and since he lives in the future, that means his birthday is tomorrow!! (Currently 9/21, 2:33am here!)
As usual, you'll be getting a double whammy of an extra release of ATG and SR when we hit our goals! Dabuyu himself made a secret card for Craxuan back then, which was super nice of him, so he obviously deserves his own event!
Rules:
1) Make a happy birthday card for Dabuyu. Size doesn't matter but it must include:
his birthdate this year (any variation of (09/22/2016)
your name (Wuxiaworld username works best if you don't know what to put)
the theme he picked: any of the 12 Chinese Zodiac

Rat, Ox, Tiger, Rabbit, Dragon, Snake, Horse, Goat, Monkey, Rooster, Dog, Pig

and the words Happy Birthday & Dabuyu.
2) Get inspiration from your bones! Creativity from your liver! Those who put great thought, extra effort, or artistic abilities into it will be counted as 5 birthday cards.
3) Each person is limited to submitting one birthday card.
4) alyschu's birthday card is a 5.
5) No mention of anything mean towards Dabuyu!
6) Enjoy!!!!
How to submit a birthday card:
Post it in the comments! Take a picture of it if you did it on paper! Things in Rule #1 must be visible!
Unlockable tiers:
0 birthday cards: Lets you see alyschu's masterpiece of a birthday card.
50 birthday cards: One extra chapter release of Spirit Realm!
100 birthday cards: One extra chapter release of Against the Gods!
1000000000000000000000000000000000000000000000000000000000000 birthday cards: For those who have not done so already, you will meet the love of your life tomorrow if this is met! The stars have spoken!
Here's mine: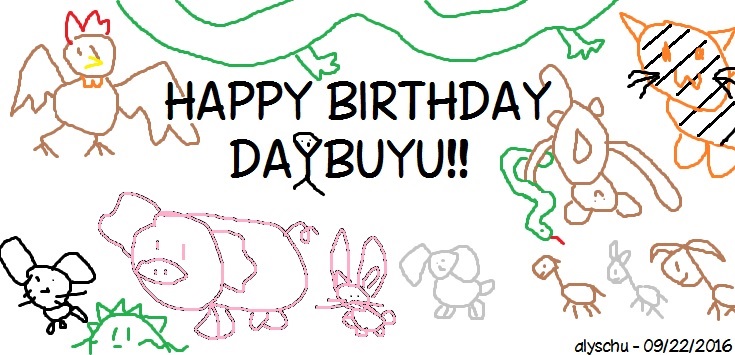 Dabuyu birthday spreadsheet is here! This will be linked manually, so real time is still the comments section!
For those who need a website to upload it to, you can use http://imgur.com/ to upload it on the web. Link your image in the comments!
I'm off to bed, happy drawing everybody!
ps. The card was simply too small for the bigger four-legged friends in the bottom right corner, I apologize if your zodiac is one of them! I totally wasn't trying to be lazy! Honest! Heh…