Hey guys, Craxuan's birthday is on the 9th of September, and since he lives in the future, that means his birthday is like sometime today for those of us living in the past! Dnton's birthday event went well, so I'll be hosting another one for Craxuan, and since Craxuan is one of our new translators for Spirit Realm, you'll be getting a double whammy of an extra release of ATG and SR when we hit our goals! I told him about the last event and Craxuan has his own special requests, so this event's a bit more specific than the last two.
Rules:
1) Make a happy birthday card for Craxuan. Size doesn't matter but it must include:
his birthdate this year (any variation of (09/09/2016)
your name (Wuxiaworld username works best if you don't know what to put)
any Pokemon listed below (Hand drawn works best, happiness works best, no excessive gore! This is in celebration of his birthday!) If you don't know any of them, go randomly pick one and try your best.
and the words Happy Birthday & Craxuan.
2) Get inspiration from your bones! Creativity from your liver! Those who put great thought, extra effort, or artistic abilities into it will be counted as 5 birthday cards.
3) Each person is limited to submitting one birthday card.
4) alyschu's birthday card is a 5.
5) No mention of anything mean towards Craxuan!
6) Enjoy!!!!
How to submit a birthday card:
Post it in the comments! Take a picture of it if you did it on paper! Things in Rule #1 must be visible!
Unlockable tiers:
0 birthday cards: Lets you see alyschu's masterpiece of a birthday card.
50 birthday cards: One extra chapter release of Spirit Realm! Unlocked!
100 birthday cards: One extra chapter release of Against the Gods!
1000000000000000000000000000000000000000000000000000000000000 birthday cards: For those who have not done so already, you will meet the love of your life tomorrow if this is met! The stars have spoken!
Here's mine: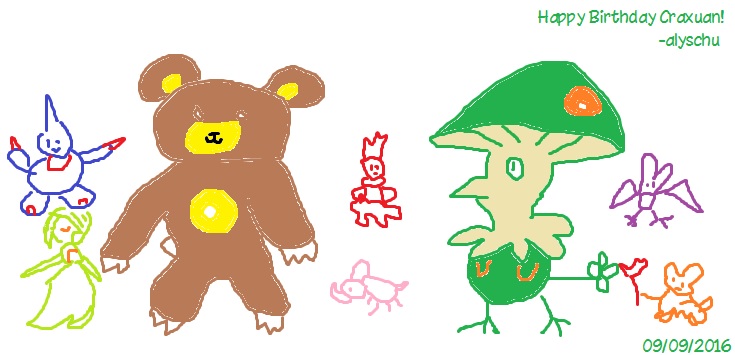 Craxuan birthday spreadsheet is here! Linked manually, so real time is still the comments section!
For those who need a website to upload it to, you can use http://imgur.com/ to upload it on the web. Link your image in the comments!
If the unlockable tiers have not been reached at the end of Friday, you have until the end of the weekend to be counted in. The deadline is September 11, 2016. 24:00 (GMT -5)
Happy drawing!